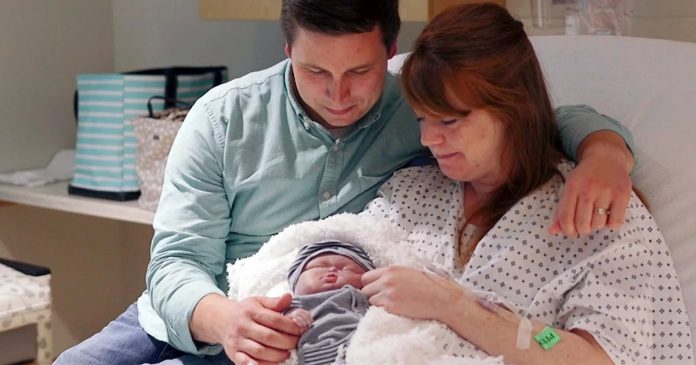 Rutinski ultrazvuk se pretvorio u noćnu moru svake majke kada je Katelyn James saznala da njezino dijete ima niske šanse za preživljavanjem. Sada Katelyn James dijeli vjeru unatoč svojoj patnji te inspirira mnoge.
"Pročitajte prije nego komentirate", napisala je fotografkinja Katelyn James u svojoj objavi na instagramu kada je prvi put podijelila svoju tragediju – najgoru noćnu moru svake majke.
Dok je na pregledu mobitelom slikala fotografiju sonograma svog malenog dječačića, nije imala pojma da će uskoro kroz vrata ući osoba koja joj je donijela užasne vijesti. Zaista je inspirirajuće vidjeti ju kako dijeli i širi vjeru unatoč svojoj patnji.
Ultrazvuk je pošao po krivu
Katelyn i njezin suprug Michael su otišli na rutinski pregled kada su primijetili da je liječnik bio odsutan malo predugo. Tada je liječnik ušao u prostoriju i "doslovno slomio mnoštvo naših snova." Riječi koje Katelyin i danas pate su: "Zabrinut sam, vaše je dijete jako bolesno."
Šokirani roditelji su saznali da je maleno tijelo bebe Jamesa Michaela imalo jako puno komplikacija.
"Nešto je bilo jako loše. I to nije bila samo jedna stvar", prisjeća se Katelyn.
U njegovom se tijelo nakupilo toliko tekućine da je nekoliko njegovih organa bilo potpuno oštećeno te je pritisak na njegovo srce sve više rastao. Katelyn je objasnila: "Višak tekućine u tijelu je samo jedna od stvari koje pate mog dječaka, a pozadina svega je činjenica da ima downov sindrom. Njegova pluća nikada nisu dobila priliku da se potpuno formiraju, a njegovo srce je pod pritiskom od 20.-og tjedna nakon začeća."
Katelyn i Michael su prošli sve osjećaje koje biste očekivali u tim trenutcima. Bilo je tu mnogo suza – more suza. No dok bi mnogi bili ljudi i sumnjali u svoju vjeru ili bi se preispitivali zašto se tako nešto moralo dogoditi, Katelyn je pokazala pravu snagu te je smatrala da je njezin dječak tako stvoren od Boga s razlogom.
Katelyn je podijelila priču o svojoj vjeri
U pismu svom nerođenom sinu, Jamesu Michaelu, napisala je: "To nisi samo nasumična kromosomska abnormalnost sa dodatnim komplikacijama… iako će tako pisati u liječničkom izvješću. To nisi nesretna trudnoća koju ćemo pokušati zaboraviti. Ti nisi onaj dio našeg života o kojem nećemo htjeti razgovarati i koji ćemo skrivati od naše druge djece. Ti nisi priča koju nikada nećemo ispričati. Tvoj život ima svrhu. Znam to jer si bio naše iznenađenje… Svemogući Bog je onaj koji je odlučio da ti trebaš postojati unutar mene.
Moj dragi dječače, ti si čudo."
Katelyn je objasnila: "Ti si dao da se tvoja mama osloni na Isusa više nego ikada prije.
Ti si učinio da se potpuni stranci počnu pitati u kakvom su odnosu s Bogom i što vjeruju o vječnosti.
Učinio si da se okupe tisuće i tisuće ljudi te da se  obrate Bogu kako bi nam pomogao.
Dao si mi novu perspektivu na majčinstvo i na ljubav.
Tvoj život pokazuje slomljen svijet koji Bog vodi i u kojem je sve po Njegovu planu.
Ako tvoj život ima tako duboku svrhu, a nikada nisi udahnuo ni jedan dah, kakvu onda veliku svrhu ima svaki drugi život na ovoj zemlji?"
Predaja Njegovoj volji
U svom predivnom pismu Katelyin je napisala: "Želim vjerovati da sam ja jedina osoba koja se može brinuti za tebe… da me trebaš više nego išta drugo… da te mogu utješiti i paziti na tebe. No istina je da je Tvoj Stvoritelj taj koji te sazdao u mojoj utrobi i koji je znao tvoju priču prije nego sam i saznala da te nosim u sebi. Ako nikada ne iskusiš bol ovoga svijeta… nikada ne moraš upotrijebiti svoja malena pluća ili osjetiti gravitaciju na svojoj nježnoj koži, utješit će me spoznaja da si u Isusovim rukama gdje nema boli."
Oproštaj
Beba James je rođena bez otkucaja srca. Iako je Katelyn neopisivo tužna zbog gubitka sina, njezina nevjerojatno snažna vjera ne posustaje. Podijelila je na Instagramu: "Ništa ne može promijeniti bol, ali jedini način na koji se ovo može preživjeti i imati nade jest vjerovati Bogu i predati mu tugu i slomljenost koju osjećamo. Nedostaje nam naša beba… no polako gradimo svoj život kao roditelji čije je dijete u raju."
Nastavila je: "Za one koji možda misle da nam Bog nije dao čudo mogu reći da ste u krivu. Preživljavanje kroz sve ovo jest čudo. Činjenica da smo mogli držati svog sina u rukama i biti radosni iako on nije živ jest čudo. Činjenica da je živio duže nego što je itko očekivao jest čudo. A najveće čudo od svih je saznanje da ćemo ga jednoga dana ponovno susresti."
Molite se za ovu divnu obitelj.
Priča Jamesa Michaela
Katelyn i Michael su nedavno objavili predivnu snimku u kojoj otkrivaju Jamesovu priču. Iako je njegov život bio kratak, ovaj par zna da je imao posebnu svrhu.
"Znam da nam je Bog dao tog dječaka s downovim sindromom kako bismo podijelili njegovu priču. Kako bi drugi ljudi vidjeli primjer mladog para koji cijeni život djeteta i život općenito. Čak i kada se zna da beba možda neće preživjeti", objasnila je Katelyn.
Katelyn i Michael znaju da će drugi roditelji doživjeti slične situacije. Dopuštaju Bogu da njhovoj boli podari novu svrhu.
"Mislim da će biti i drugih obitelji koje će se naći u sličnoj situaciji. Tada će čuti Jamesovu priču i pomisliti da i oni mogu to preživjeti, jer smo i mi uspjeli", rekla je Katelyn, "Zbog Jamesovog će života dobiti nadu i bit će ohrabreni."
Dok se prilagođavaju životu nakon tragedije, Katelyn priznaje da su ona i suprug razmišljali kako odgovoriti na pitanje: "Koliko imate djece?". Pogledajte video kako biste više saznali o njihovoj i Jamesovoj priči.